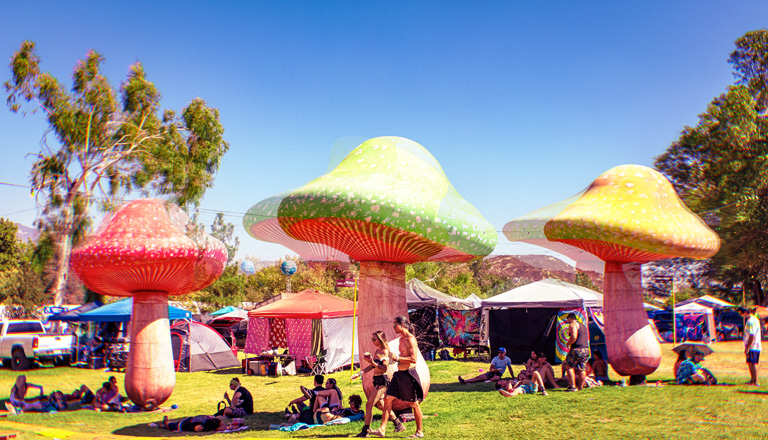 Camping Entry & Hours
Hours
Daily Festival Hours
Will Call: Saturday & Sunday: Opens at 2pm
Event Times: Saturday & Sunday: 3pm–12am
Campground Hours
Friday, 9/16, 10am – Monday, 9/19, 3pm. All campers must be fully packed and vacate the campground by 3pm on Monday, 9/19.
Campers will not be allowed to exit the campgrounds or tent camping parking areas on Sunday night/Monday morning between the hours of 11pm and 2am to allow for a safe exit of all non-campers.
Campground Check-In
Friday, 9/16: 10am – 11:59pm
Saturday, 9/17: 9am – 12pm
Camping will now open early at 10AM Friday morning. Avoid the commuter traffic and spend your day relaxing in the water park! Camping check-in will be open Friday from 10AM – 11:59PM. Saturday we will be open from 9AM – 12PM. Please arrive only during the check-in hours above, and allow extra time for unexpected delays, as closing times are strict.
Registration & Separate Arrivals
This year, we are implementing the On-Track registration process for all campers. Headliners will need to register all campers to their ticket using the online registration page that will be sent directly to purchasers approximately 10 days prior to arrival. Tent camping will accommodate up to 4 Headliners per site. Car camping will accommodate up to 7 Headliners per site. RV camping will accommodate up to 8 Headliners per site.
All campers must be registered in advance. Only those campers registered will receive a camping wristband. Those that arrive separately, will be linked to the reservation, and given directions to their pre-assigned campsite, to meet the remaining members of their group.
New Gear Drop-off + Pick-up!
Tent campers will have the option to drop their passengers and gear in the Blue Lot before parking their vehicles in the designated Tent Camping parking areas (Brown and Gray lots). All tent camping vehicles will be directed into Gate 4 and proceed to the drop-off area. Staff will scan their camping pass and check in all registered campers and distribute wristbands. The driver will then need to move their vehicle to the designated tent camping parking in Brown or Gray Lots, on the opposite side of Glen Helen Parkway. Passengers may proceed with gear through the search tents into the campgrounds or wait in the designated area for the driver to return before proceeding into camping. This process will be available Monday as well for pick up.
Camping Box Office & Ticket Help
Friday, 9/16, 10am – Saturday, 9/17 3pm
The Camping Box Office is located in Lot 10.
Ins & Outs
All campers will have in/out privileges to and from the festival (during festival hours) and a dedicated campers-only festival entrance.
Campers must scan in & out when going from the campground to the festival and vice versa. This is required in order to gain re-entry.
Campers with a valid camping wristband are allowed to leave the campground on foot.
Festivalgoers who do not have valid camping wristbands will not have in/out privileges from the festival to the campground or access to the campground at any time.
Camping Check-In
Check-in procedures vary by camping type: