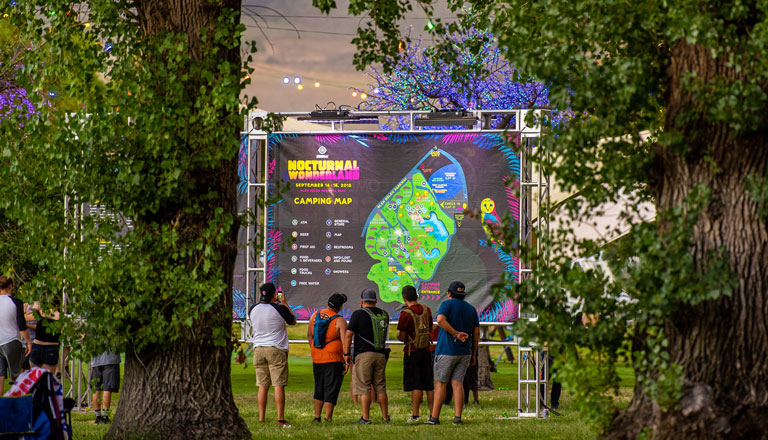 Camping Entry & Hours
Hours
Daily Festival Hours
Will Call: Saturday & Sunday, opens at 3pm
Event Times: Saturday & Sunday, 3pm–12am
Campground Hours
Friday, 9/13, 12pm – Monday, 9/16, 3pm. All campers must be fully packed and vacating the campground by 3pm on Monday, 9/16.
Campground Check-In
Friday, 9/13 @ 12pm through Saturday, 9/14 @3pm
Please arrive only during the check-in hours above, and allow extra time for unexpected delays, as closing times are strict. If you arrive late, we will not be able to admit you into the campground until check-in opens the following day.
Separate Arrivals
If you are arriving after your group has already checked in to the campground and claimed your campsite, you will need to visit our Campground Ticket Help during operating hours to claim your camping wristband. You must provide your festival pass and group's camping confirmation number. Camping wristbands will be granted only if your campsite's capacity has not been reached (maximum 5 people per site). Please keep in mind our check-in hours, as arrivals outside of these times will not be accommodated. Overnight parking will also be available for campers arriving at separate times and joining an existing campsite.
Camping Box Office & Ticket Help
Hours TBA
The Camping Box Office is located in Lot 4 and accessed via Gate 4 off Glen Helen Pkwy.
Ins & Outs
All campers will have in/out privileges to and from the festival (during festival hours) and a dedicated campers-only festival entrance.
Campers must scan in & out when going from the campground to the festival and vice versa. This is required in order to gain re-entry.
Campers with a valid camping wristband are allowed to leave the campground on foot.
Festivalgoers who do not have valid camping wristbands will not have in/out privileges from the festival to the campground or access to the campground at any time.
Camping Check-In
Check-in procedures vary by camping type: