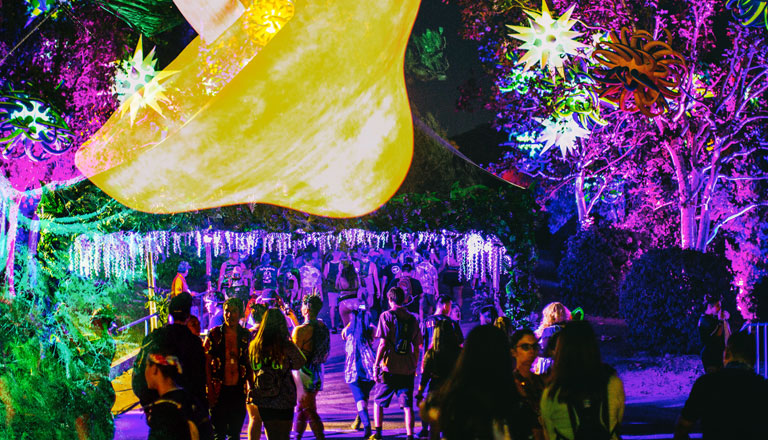 Parking & Drop-Offs
Parking Map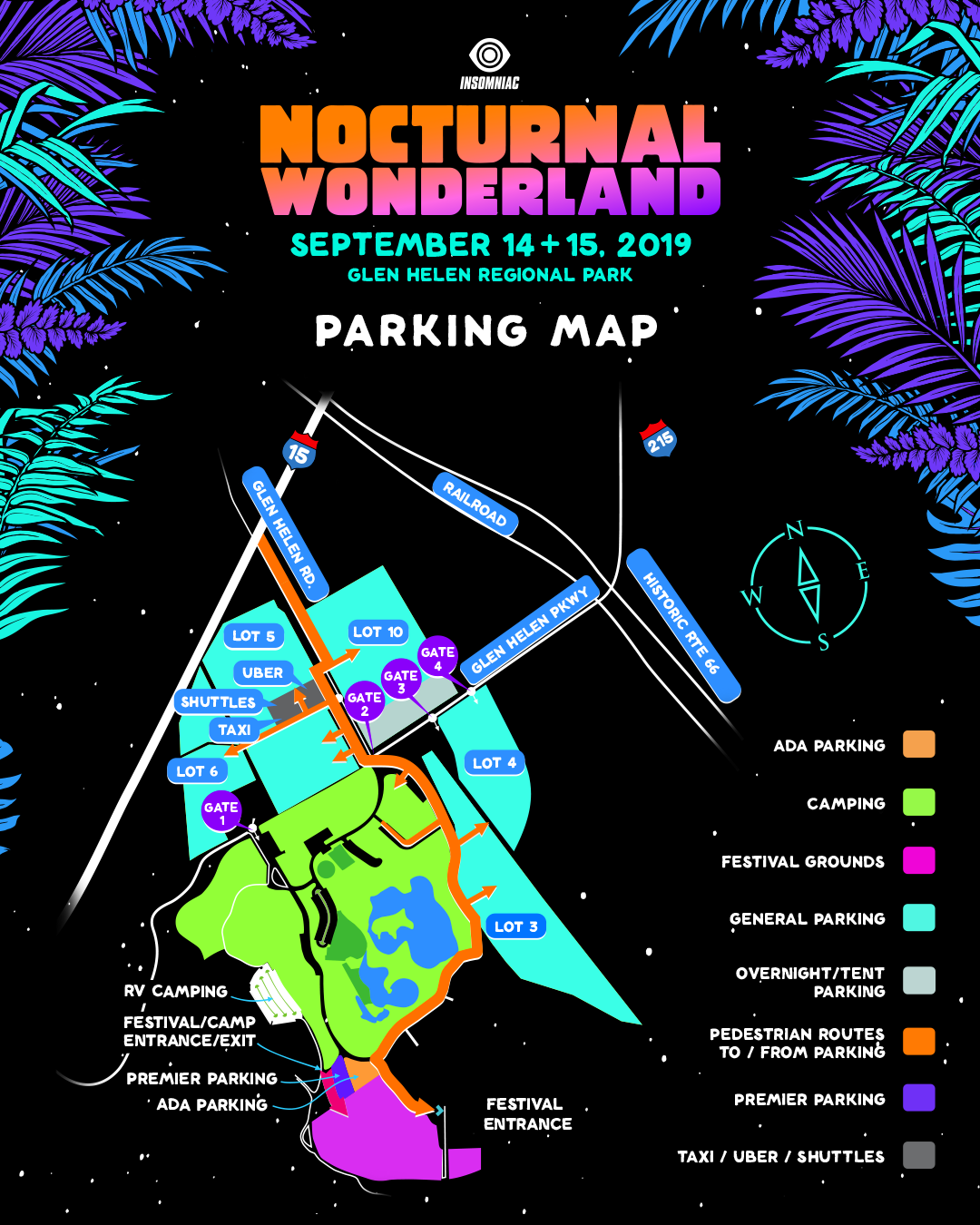 Premier Parking
Premier Parking allows you to park closest to the festival entrance and be first to exit once the festival is over! Passes are available for both Friday and Saturday. To access the Premier Parking Lot, enter the venue through Gate 1.
General Parking
Free general parking is offered adjacent to the venue. Do not park away from the venue and attempt to walk in; it is dangerous for pedestrians and vehicles, and the CHP will rigorously enforce this restriction.
Accessible Parking
ADA parking will be provided near the festival entrance. Learn more about accessibility at Nocturnal Wonderland.
Parking Lot Restrictions
Vehicles must vacate the parking lot each day at the close of the festival. Any vehicles left in the lot after each festival day will be towed at the vehicle owner's expense.
The following activities are strictly prohibited in the parking lot and areas surrounding the venue:
Tailgating
Sleeping in your vehicle (except RV Camping)
Buying/selling tickets
Vandalism
Loitering or other illegal behavior
Drinking alcohol
Illegal drug use
Pro Tips
Please rideshare if possible. It's not only good for environment, but it will minimize the number of vehicles accessing the grounds and help get you parked and into the festival faster!
Check out our official shuttles, too! Both convenient and quick, they are the easiest way to get to the venue.
Plan to arrive early, so you can take care of parking and get into the festival without missing a beat!
Don't leave valuables in your car. Leave them at home, or carry them with you.
Be sure to remember where you park your car! Pin your location, and take pics of nearby landmarks and signage.
For everyone's safety, no pedestrians will be allowed on Glen Helen Pkwy before, during, or after the event. Please follow designated pedestrian routes from the lots to the venue and back.
Please follow directions from event staff. This will help ensure smooth traffic flow and faster parking. To expedite your exit, traffic leaving some lots will be directed north on Glen Helen Pkwy to I-215. If you are returning to Los Angeles, you should take the on-ramp to I-215 north and immediately take the first exit to I-15 south.
Drop-Offs
UBER
You dance. Uber drives. For easy entrance and exit, head to the Uber Zone—just look for the signs!
TAXIS & GUEST DROP-OFFS
All taxis and other guest drop-offs and pickups must go to the designated Guest Drop-Off and Pickup location (look for signs), which will remain open for the entire event.
Insomniac Holdings, LLC and its affiliates, together with their respective employees, officers, owners, shareholders, members, directors, representatives and agents (collectively, "Insomniac") are NOT RESPONSIBLE for and assume no liability arising from fire, theft, damage to or loss of any vehicle or any articles left therein. Parking at the event constitutes acknowledgement by the holder that he or she has read and agrees to the provisions of the foregoing contract. Vehicles (a) remaining in parking areas after close or (b) in parking areas other than as designated by Insomniac are, at Insomniac's sole discretion, subject to tow-away at owner's expense.