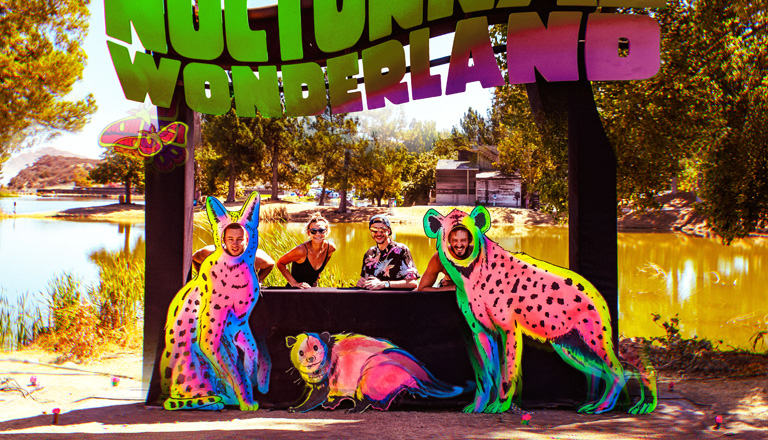 Accessibility
Insomniac welcomes all, and we strive to make our environment accessible to our guests with disabilities. During the festival, the venue will feature accessible parking, restrooms and other amenities, as well as designated areas for wheelchair users and their companions.
Parking
ADA parking will be provided near the festival entrance.
Accessible Camping
To request an accessible camping spot, please fill out our ADA Camping Registration Form.
Accessible camping locations are available for those with accessibility needs. Campsites include close access to paths, entrances, exits, shuttles, accessible restrooms, and accessible showers.
Accessible camping spots are available on a first come, first serve basis. Registering helps us prepare for your group and plan our accessible camping area. Limited spots may be available to unregistered guests onsite but are not guaranteed.
You will need to bring your valid, state-issued handicap placard, plates, or sticker to enter the accessible camping area. The person to whom the placard or plate is issued must be present in the vehicle, as a driver or passenger. As part of gaining access to accessible camping, identification will be checked to ensure legitimate use.
Entrance
An accessible entrance will be located near the ADA parking. Look for the Access Center, where you can check in and receive your wristband for all accessible viewing platforms.
Access Center
All accessibility-related inquiries can be answered at our Access Center, which will be located inside the venue. Additionally, this is the location for recharging wheelchair batteries and/or the other assistive technology requiring electrical recharging, as well as storing equipment.
Venue Terrain
The grounds have sloped terrain. Please contact us if you would like more information.
Service Animals
Service animals are the only animals allowed onto the festival grounds. Emotional support animals do not qualify as service animals.
Viewing Platforms
Nocturnal Wonderland provides an accessible viewing area for each stage. To gain access, please check in and pick up your wristband at the Access Center.
Amenities
All public restroom areas, ATMs and concession stands are accessible to our patrons with disabilities. Please see your festival map for locations, or contact the nearest staff member for assistance.
Medical
First aid locations are offered throughout the venue. Please refer to your festival map, or contact the nearest staff member. Festival event staff have been trained in proper emergency preparedness.
Effective Communication Requests
We accept requests for any of the following services:
ASL Interpretation
Other forms of Effective Communication
Requests for these services must be submitted to us at least 30 days prior to the event to allow for sufficient preparation. The deadline for this event is August 18, 2023. To submit a request, please fill out the Effective Communication Request Form.
Contact
If you have any questions, suggestions, or comments about accessibility at this or other Insomniac events, please contact us. We are committed to continually improving the festival experience for our Headliners with disabilities.
**Smoking of tobacco products is permitted at our outdoor events, and there may not be designated non-smoking areas. As a result, our events may not be suitable for individuals with sensitivities to smoke.